eWrit Filings, LLC
7130 Minstrel Way Suite 130 Columbia, MD 21045
Associate Company (Supplier)
Member Since: 2015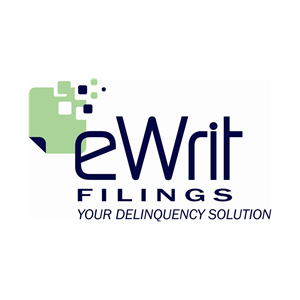 Organization Overview
Our Mission
To be a strategic partner in our clients' fight against delinquency.
Our mission is very important to us, something we pride ourselves on. We accomplish our mission by doing the following:

- Prompt response times and maintaining open communication
- Obtaining the best possible court/eviction dates
- Our use of cutting edge technology
- Offering the perfect blend of legal and property management experience
- Providing transparency throughout the filing process
- Delivering quality training and coaching to our clients

Our Difference
What Sets Us Apart from the Rest?
eWrit Filings offers the perfect combination of cutting edge technology with our web based, customer friendly case processing software, and unbeatable customer service from our large staff of highly trained paralegals, court agents, and attorneys.

YES, we have attorneys on staff to help with your many legal issues.

Such matters include:

- Rent Escrow cases
- Tenant Holding Over actions
- Breach of Lease cases
- Forcible Entry & Detainer matters

In addition, our team has years of property management experience so we know how valuable time is in the filing process! We watch your delinquency as if it were our own. eWrit Filings is a comprehensive, one-stop delinquency management solution! Why accept anything less?