Innovate - Multifamily Education Showcase
---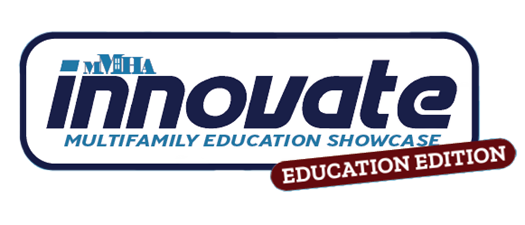 Introducing the Second Annual MMHA Innovate!


Featured Keynote Speaker:

Jon Acuff

SOUNDTRACKS:

How the Best Teams Overcome Overthinking to Navigate Change, Increase Productivity and Win Consistently.
Breakout Sessions featuring Savvy Property Solutions:

Since 1996, the ladies of Savvy Property Solutions have been passionate about the people of the Multi-family Industry.  At Savvy, we believe you get your results through your people. Investing in providing education for your team today, guarantees you a profitable tomorrow.

Basic to Bougie A seminar in effective teamwork
What your service teams want you to know. Keys to keeping your service requests to a minimum
Breakout Session featuring:

Russ Webb, BAAA Executive Director

Conquering Stress Using Emotional Intelligence 

In this session you will learn how your reaction to challenging situations can be proactively altered by understanding your emotional triggers. 
Power Hour Innovation Stations

Featuring: 

The best Suppliers in the Industry and multiple chances to win cash!  (If you are a Supplier and you would like to sponsor and be featured at this event, please contact lcrook@mmhaonline.org for more information.)
Industry Expert Panel on the Hottest Topics in Multi-Family featuring:
Steve Margerum,

 Principal, Cove Property Management - Moderator

Erika Orlaskey, President, Signature Properties

Keisha Warrick, VP Residential, David S. Brown

Erin Ditto, Executive Vice President Southern Management

Laurel Hillocks, Area Vice President, Morgan Properties
Closing Networking Happy Hour from 5:30pm-7pm!
About the Keynote Speaker:
Jon Acuff

Jon Acuff is the New York Times bestselling author of seven books, including his most recent, Soundtracks, The Surprising Solution To Overthinking.

Published in more than twenty languages, his work is both critically acclaimed and adored by readers. When he's not writing, Acuff can be found on a stage, as one of INC's Top 100 Leadership Speakers. He's spoken to hundreds of thousands of people at conferences, colleges and companies around the world including FedEx, Nissan, Microsoft, Lockheed Martin, Chick-fil-A, Nokia and Comedy Central. Known for his insights wrapped in humor, Acuff shared the stage with an American Icon when he opened up for Dolly Parton at the Ryman Auditorium.

For over 20 years he's also helped some of the biggest brands tell their story, including The Home Depot, Bose, and Staples. His fresh perspective on life has given him the opportunity to write for Reader's Digest, Fast Company, The Harvard Business Review and Time Magazine.

He lives outside of Nashville, TN with his wife Jenny and two teenage daughters.
Thank you to our Presenting Sponsor!

Agenda
May 25
11:00 AM

Registration Opens

11:15 AM - 12:00 PM

Lunch & Networking

12:00 PM - 1:15 PM

Welcome & Keynote Session by Jon Acuff


Soundtracks: How the best teams overcome overthinking to navigate change, increase productivity, and win consistently.
1:25 PM - 2:15 PM

Breakout Session 1


Savvy Property Solutions: Basic to Bougie: A seminar in effective teamwork OR Russ Webb, BAAA Executive Director: Conquering Stress Using Emotional Intelligence: Learn how your reaction to challenging situations can be proactively altered by understanding your emotional triggers.
2:25 PM - 3:15 PM

Breakout Session 2


Savvy Property Solutions: What your service teams want you to know. Keys to keeping your service requests to a minimum OR Russ Webb, BAAA Executive Director: Conquering Stress Using Emotional Intelligence: Learn how your reaction to challenging situations can be proactively altered by understanding your emotional triggers.
3:15 PM - 4:15 PM

Innovation Station Power Hour


Innovation Station Power Hour Designated hour to visit our sponsors in the demo lab Innovation Station area. Cash drawings every 15 minutes.
4:25 PM - 5:25 PM

Industry Hot Topics Panel


Industry Leaders discuss the Hottest Topics in the Multifamily Industry
5:30 PM - 7:00 PM

Happy Hour & Networking